The adventures of Svik in Pics and words
This is my first SS, taken of the warrior terrace at the Elf capital. U see me and my peacefull cat named Kitty. I´ve got a bear in the stables, and also use a wolf shortly. Only to learn their skills, that now is passed on to Kitty..my first pet. I like her, cause she eat almost anything, and don´t need to much food.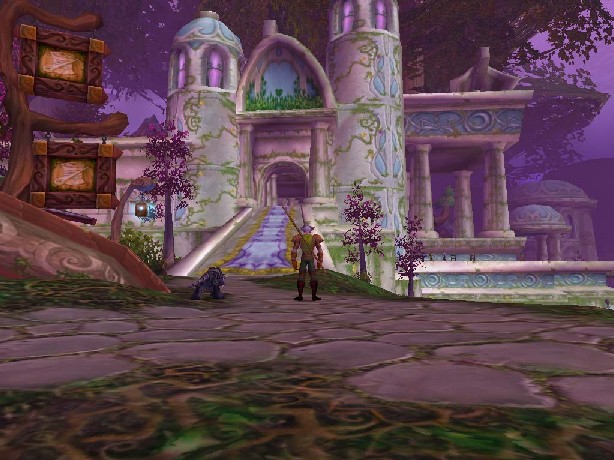 This next pic is of me and Kitty taking som R & R at the local inn.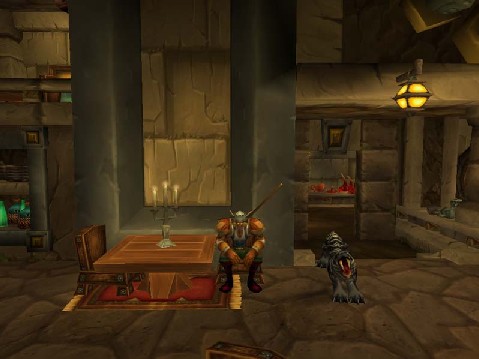 After leaving the first low lvl area, you reach a place called Darkshore. Here I´m flying through there.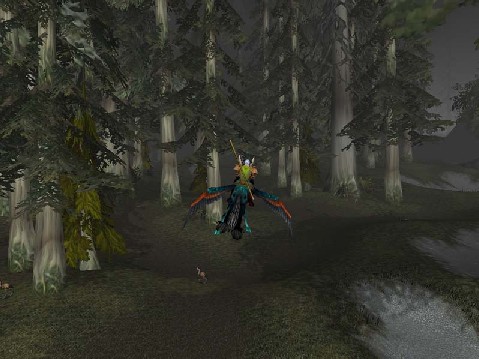 Soon u meet other peoble, trade with them, and go on quests in small parties.
The next one is of me and friendly gnome called Nosas.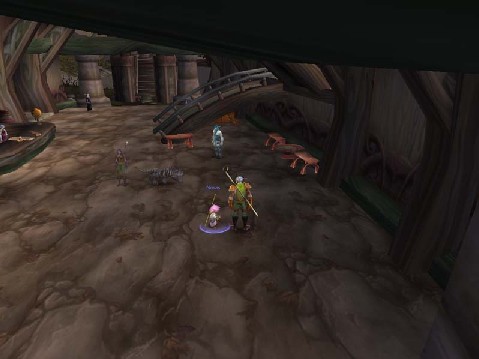 Just south of Darkshore lies Ashenvale. A lot of good quest are there, and many of them is done at Zoram Strand. The next pic, show me flying over that area.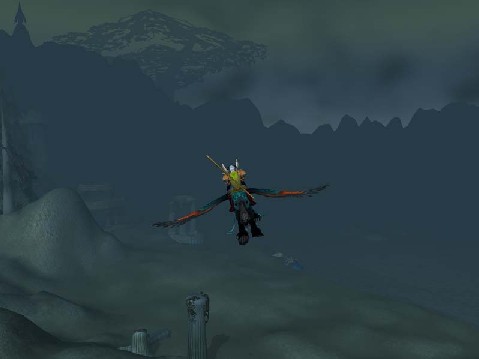 One of the things I really wanted to do in the beginning was seing Ironforge and Stormwind. Capitals of the Dwarfs and Humans.
First I´m on my way to Ironforge
Soon I reached the goal.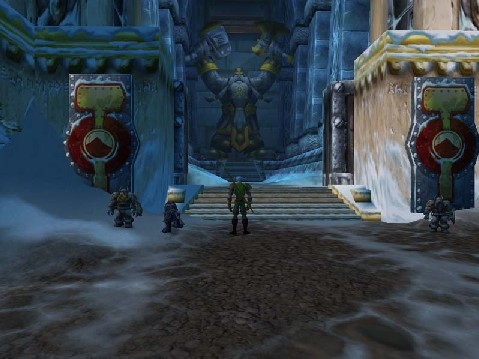 After that, the deep tram to SW. I haven´t got any pics of that, but here is one taken of the city gate.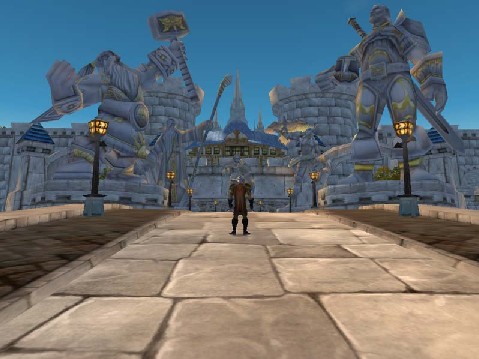 I´ve explored a lot. In the FB I don´t care that much about lvl. I just want to be strong enough to survive in the wilderness.
I seen many strange places, one night I swam from Darkshore, and keept swimming for like 40 min. When i finally had the chance to get to shore, I found myself ind high lvl Horde land. This pic is taken close to Kodo Graveyard.
I´ve seen some other places where the ugly horde lives. The next pic show me on hunt in the Barrens. Shortly after the beast was dead...hehe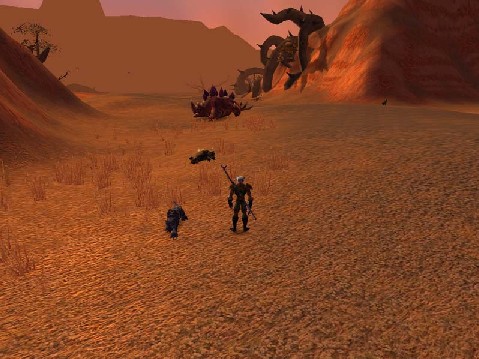 When you play 10-16 hours a day, you always get the chance of some figthing against the Horde.
The following pictures is from the greatest battle I done so far. Think there were like 60 players involved. After a long hard fight at Astranaar, we drove the beasts back to their borders, and some of us even survived through the guards.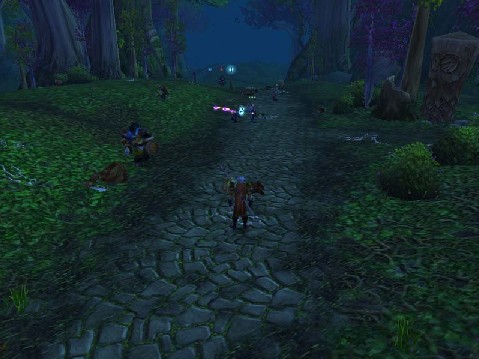 But when you fight highlvl wizards, you better watch out. Look what happened to mee.
Yes, I´m the sheep :o(
One of the main thing about this kind of game, is meeting players from other countries. My best companion is a sexy Elf warrior called Friya. Not only does she look great, but she´s a very nice and helpfull person to. My hours with her gaming wiht her, is the best so far.
Here we are on our way to Stormwind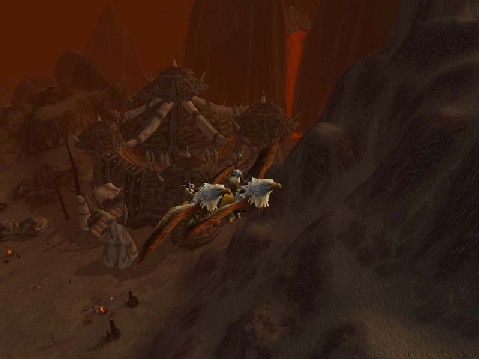 The next pics is only for persons over 18. Now you are warned ;o)
Anyway, I think she got tired of me always wanting to have her in front....what can I say... I liked the wiev. Then one day she gave me a little surprise:
Weee....I said, and then she started to dance...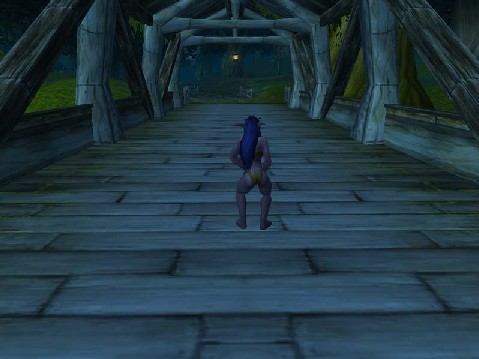 I must say, that is not every day I have such a good time....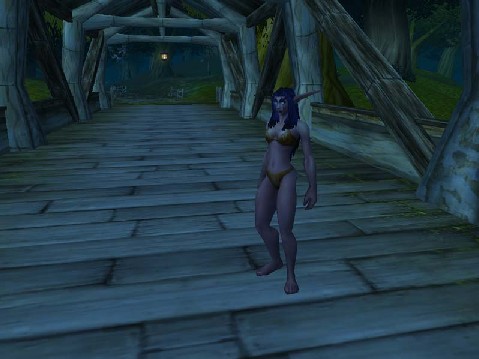 Well, all god things must come to and end. And after all this exitment, I needed some rest.
When you travel trough the different parts of the world, you sometimes see some strange stuff. Just look at this moob:
One day, Friya and I discovered something really spooky. The eyes just keept flashing, and there were nothing else there...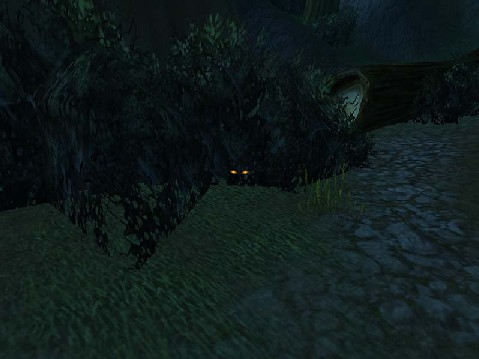 Besides flying, or walking u can also use boat´s for transportation. This is taken on my first trip: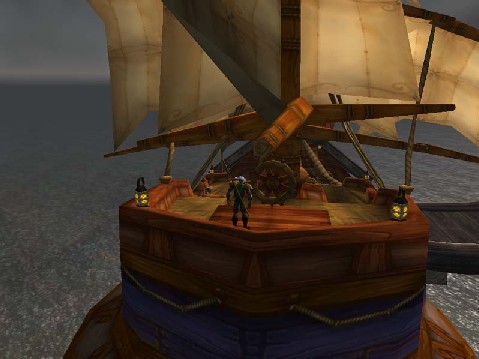 No more pics....but I´ll add some later.